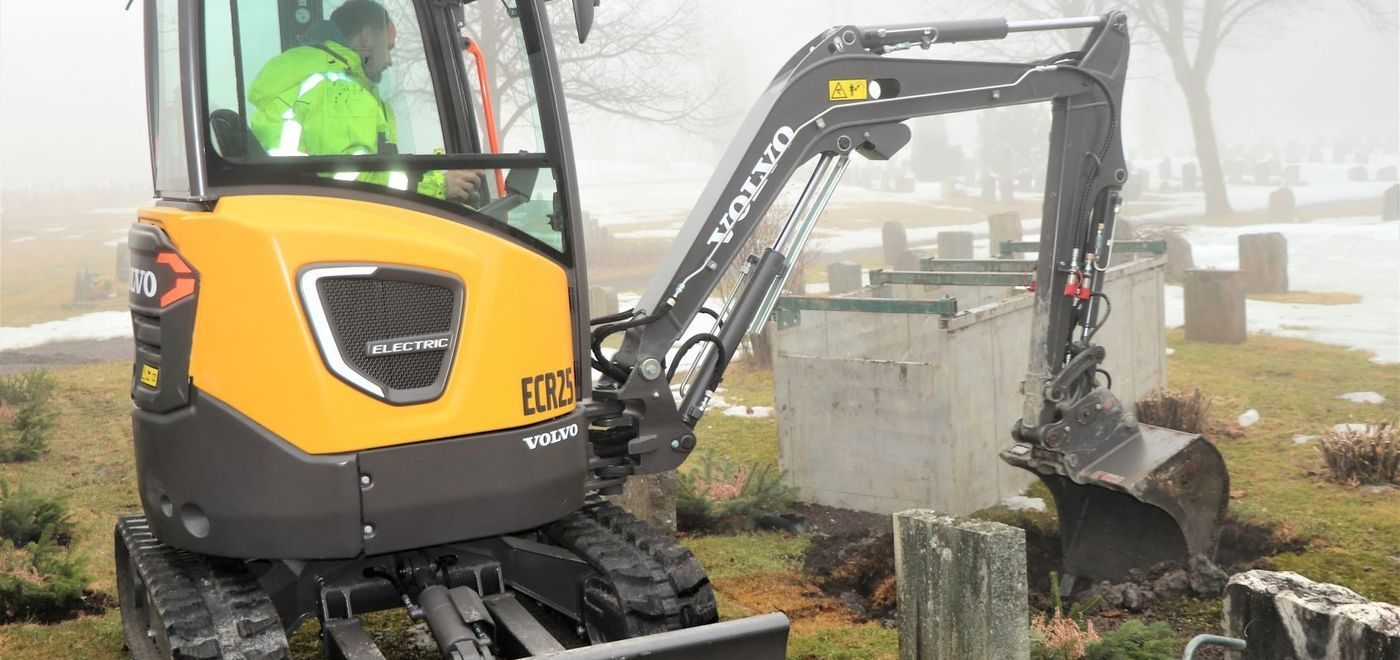 The City of Oslo's emissions continue to drop
Oslo municipality emitted more than 20 percent less greenhouse gases in 2021 than the year before. Emissions from the municipality's own operations have decreased by approximately 85 percent since 2012, according to calculations by the City of Oslo's Climate Agency.
Oppdatert
You cannot see the excavator until you get close on this foggy morning at Grefsen Cemetery. Neither can you hear it from a distance. This is one of five new electric excavators that the Cemeteries and Burials Agency has purchased. They work quietly and do not emit exhaust.
Municipal companies in Oslo have replaced several fossil constructions machines with electric ones in recent years. Other machines have switched from diesel to biofuel. As a result, construction machinery accounted for the largest percentage decrease in greenhouse gas emissions from the operation of City of Oslo last year. According to calculations by Oslo's Climate Agency emissions were halved from 2020.
– It is impressive that our companies have managed to halve the emissions from their construction machinery in a single year, says Vice Mayor for Environment and Transport, Sirin Stav.
– We want the municipality's machines to run on either sustainable biofuel or electricity, according to the City Council's climate targets. The City Council's target is for all own construction machines to be electric by 2025 and reduce both greenhouse gas emissions and noise while we improve local air quality, she continues.
Decrease in emissions 2012-2021 from the operation of the City of Oslo
Transport vehicles: 73%
Operation of construction machinery: 73%
Energy consumption in buildings the construction companies use: 93%
Use of energy for other processes: 93%
Sharp decline in ten years
The calculations are based on self-reports on energy consumption from the municipal enterprises. It is somewhat uncertain how accurate the figures are, but the trend over the last ten years is clear: The phasing out of oil-fired boilers, electrification of the car fleet and fossil-free construction machinery have resulted in sharp cuts in emissions.
Greenhouse gas emissions fell by 24 percent in 2021. They are now 86 percent lower than in 2012, according to reports.
The whole city will cut greenhouse gas emissions with 95 percent by 2030. The municipality will have to run emission-free from there. Transport is another sector where the municipality has made major changes in the last ten years. Emissions from the the City of Oslo's own vehicle fleet have been reduced by 74 per cent since 2012. 1000 of the 1341 light vehicles were emission-free by 2021. More than 70 percent of the municipalities' heavy vehicles were fossil-free or emission-free. In addition, many of the city's employees can now cycle on work-related trips.
– I am very happy that we have over 600 electric bicycles that the municipality's employees use, says Vice Mayor Stav.
Since 2020 the City of Oslo's goal has been for the companies to switch to zero emissions or sustainable biofuels in transport vehicles and construction machinery. And so, the decline in emissions continues.
Share of the municipality's total greenhouse gas emissions from operations 2021
Transport vehicles: 45%
Operation of construction machinery: 25%
Energy consumption in buildings the construction companies use: 16%
Use of energy for other processes: 14%
More details from the municipality's emission accounts
Energy consumption in construction
Includes all energy use for heating, ventilation, and lighting in buildings that the companies use
The report shows that emissions related to heating have been stable over the past year, from 288 tons of CO2-eq in 2020 to 285 tons of CO2-eq in 2021. These are mainly related to the use of bio pellets and biofuel oil.
All oil boilers in municipal operations were phased out during 2019.
Energy consumption and other processes
Includes all energy use in service production that does not go to heating and operation of buildings, such as water treatment plants, pumping stations, cremation etc.
The results for 2021 show that emissions were reduced from 373 tons of CO2-eq in 2020 to 258 tons of CO2-eq in 2021, which gives a reduction of 31 percent.
Construction machinery
Emissions related to fossil fuels for construction machinery have decreased from 926 tons of CO2-eq. To 448 tons of CO2-eq.
The emissions are related to the fuel consumption for the operation of boats, excavators, forestry machines, bulldozers, tractors, lawn mowers, chainsaws etc.
In 2012, all construction machinery owned by the city ran on petrol or diesel. In 2021, construction activity is somewhat higher than in 2012 but emissions are still lower due to the use of fossil-free and emission-free energy carriers.
Diesel consumption is about 143,000 liters, petrol about 23,000 liters. The consumption of biodiesel more than doubled from 2020 to 2021, from 232,000 liters to 470,000 liters.
The emission accounts only include emissions from the  municipality's own construction machinery, not suppliers' construction machinery at municipal construction sites.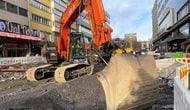 English
Norway expects a large increase in electric excavators in 2022