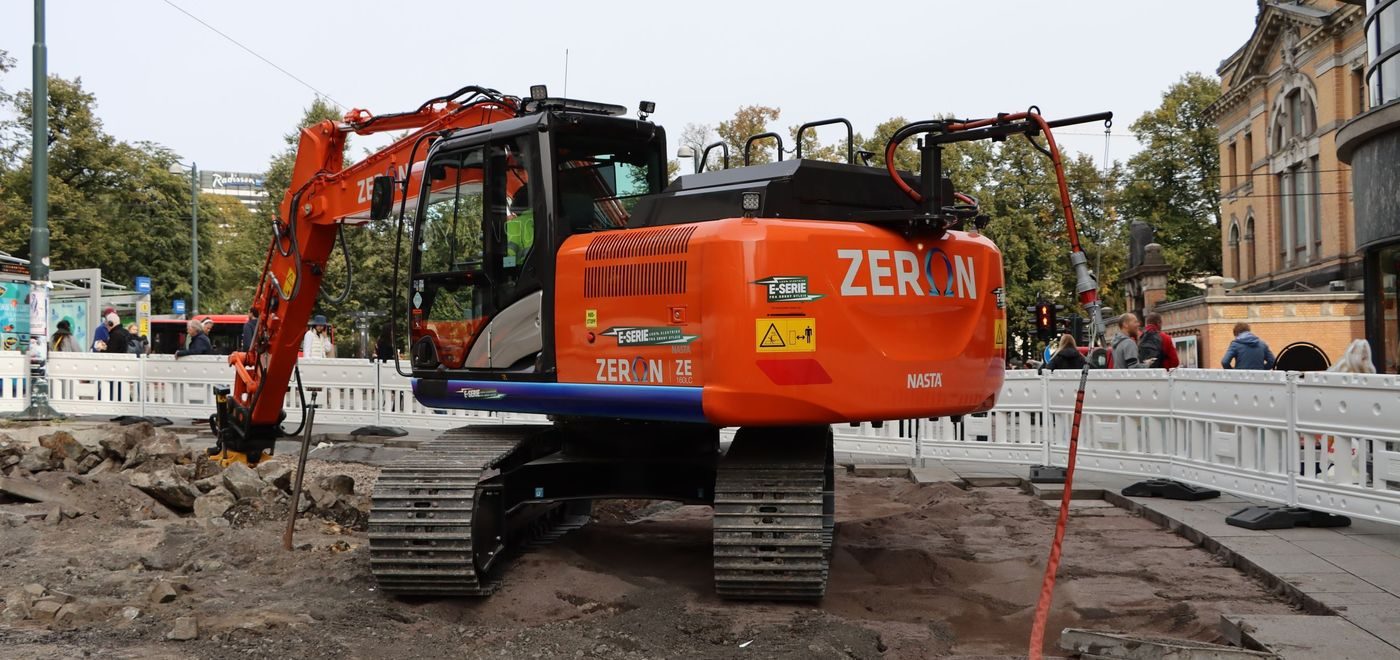 Electric excavators may become the norm in Oslo
The Climate Budget for 2020 targets Zero Emission Construction.
Tekst Ellen Omland Foto Ellen Omland
– We're aiming for zero-emissions construction inside the fenced-off area.
Karin Dalberg and Bjørn Arild Mythen, project manager and assistant project manager for the upgrade to the streets Olav Vs gate and eastern Klingenberggate, look out over the construction site between the National Theatre and Aker Brygge.
This busy «commuter street» is surprisingly quiet. We can see large pieces of asphalt being lifted out of the ground by the excavators, but we still haven't had to pull on our ear defenders to keep out the noise.
In fact, the three electric excavators currently working on the site make much less noise than normal fossil fuel excavators.
The work on upgrading Olav Vs gate, commonly known as the cinema street with Saga Cinema and Klingenberg Cinema, is well under way.
And it is groundbreaking work.
This is the first zero-emissions construction site in the world. To achieve this, every excavator, wheeled loader and other equipment has to be electric.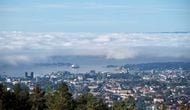 English
The Climate Budget – explained
It is not uncommon for groundbreaking work to encounter obstacles, however, so that certain requirements have to be ignored – but more about that later.
Zero-emissions construction an important element in the Climate Budget
The building and construction industry aims to make changes, allowing for an increase in zero-emissions operations. This is one of the initiatives in the Climate Budget 2020 introduced to help Oslo reach its goals for lower greenhouse gas emissions.
By next year, emissions are to be down by 41 percent when compared with levels in 2009. The aim is for a 95 percent reduction by 2030.
The upgrade of Olav Vs gate is a pilot project, with several other zero-emissions construction projects planned in 2020. In Oslo, construction sites represent approximately seven percent of greenhouse gas emissions.
If we are to achieve the ambitious climate targets, every sector must contribute. Replacing fossil fuels with electricity and biofuel in the building and construction industry plays an important role.
Public Procurement important for achieving zero-emissions construction
– The City of Oslo aims to exploit its market power to ensure that all municipal projects are either fossil-free or zero-emission," says Philip Mortensen of the City of Oslo's Climate Agency.
Oslo City Government, in its proposal for a new Climate Strategy, has
established targets for municipal construction to be zero-emission by 2025. This implies that contractors will not be awarded construction work if they do not use electric machines. Zero-emissions construction sites have been in the pipeline for some time, but the process to start this has been difficult.
– The contractors are positive, but we need to see an increase in demand for these construction machines, says Philip Mortensen.
Electric construction machines are not available on the market. At the time of writing, demand for electric excavators is too low for the suppliers to scale up production. As a result, they are expensive to buy for contractors.
The electric excavators currently on the market have been converted from diesel-powered excavators. The target is for high-volume production of new electric excavators, making them less expensive for the contractors.
– We are working hard both at home and abroad to gather support behind this demand. The market for electric excavators is still immature, says Philip Mortensen.
Oslo taking the lead
Public procurement officials have the power to promote new green goods and services. Cities can collaborate to generate new markets for climate-friendly solutions. The European Commission has established a platform, the Big Buyers Initiative, promoting collaboration between European cities regarding procurement. This summer, zero-emissions construction sites were highlighted as a priority area.
Oslo will be hosting a new meeting for the network at the end of November, where the plan is to exchange experience regarding procurements for zero-emissions construction sites.
– For a company, investing in electric alternatives on a construction site involves major costs. Both the equipment and the expertise are expensive. When more cities and real-estate developers gather behind the demand for zero-emissions construction sites, it will be easier for companies to invest, says Philip Mortensen.
Deep dive: 
Guide to arranging fossil- and emission free solutions on building sites
New measures required
It was a lengthy process to plan the upgrade to Olav Vs gate before the first electric excavators could take over the street.
– The preliminary project wasn't completed until February 2018. Then we had difficulties in procuring the electric excavators," explains Bjørn-Arild Mythen, assistant project manager for this groundbreaking project.
Three electric excavators are working on the street.
– Two of the excavators are powered by battery and one is attached to a power cable. We also have one electric wheeled loader, Karin Dalberg confirms.
All lorries driving to and from the construction site within the City of Oslo are also required to run on biofuel.
– The biggest challenge was procuring enough electric excavators in time, says Bjørn-Arild.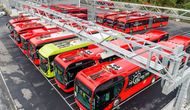 English
Oslo's Climate Budget 2020: The most important figures
Several of the machines currently in use were ordered specifically for this project, by the City of Oslo. Normally, excavators are part of the contract with the contractor, and equipment the contractor has to procure independently.
– If we'd followed normal practice, the project would have been delayed because it takes time to convert to electric vehicles, explains Bjørn-Arild.
For the project, the contractors lease the electric excavators via a licence agreement signed with the City of Oslo with a machine leasing company.
– When we have more experience with electric excavators, we hope new machines will be built, says Karin Dalberg.
Challenges with emissions
The pilot project has encountered a few hurdles.
– We already have some lessons learned, says Bjørn-Arild.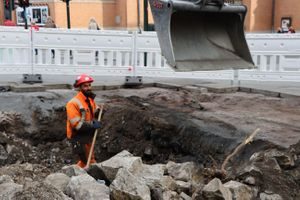 The basement for the buildings on Olav Vs gate is wider than the actual buildings. In other words, the basement protrudes past the building under the pavement. The basement walls and ceiling have to be covered with a membrane to stop water leaking into the building.
– During the preliminary project, studies were carried out to discover if it was possible to install this membrane without emissions. It was not, says Bjørn-Arild.
– The membrane has to be heated before it is installed. Before the project started, we thought we could find electric equipment for the membrane, but it then emerged that the membrane used has to be heated using propane.
This is because electricity is not sufficient to heat this type of membrane until it melts. Studies are under way to find out if a fossil-free fuel can be used so that the operation will at least be fossil-free. A process has been initiated to ensure that future operations involving this type of membrane can be zero-emissions.
Nonetheless – the pilot project has provided important lessons for the future, and the City of Oslo plans to continue with zero-emissions construction.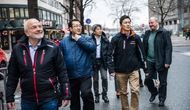 English
Electric excavators mean zero-emissions construction sites