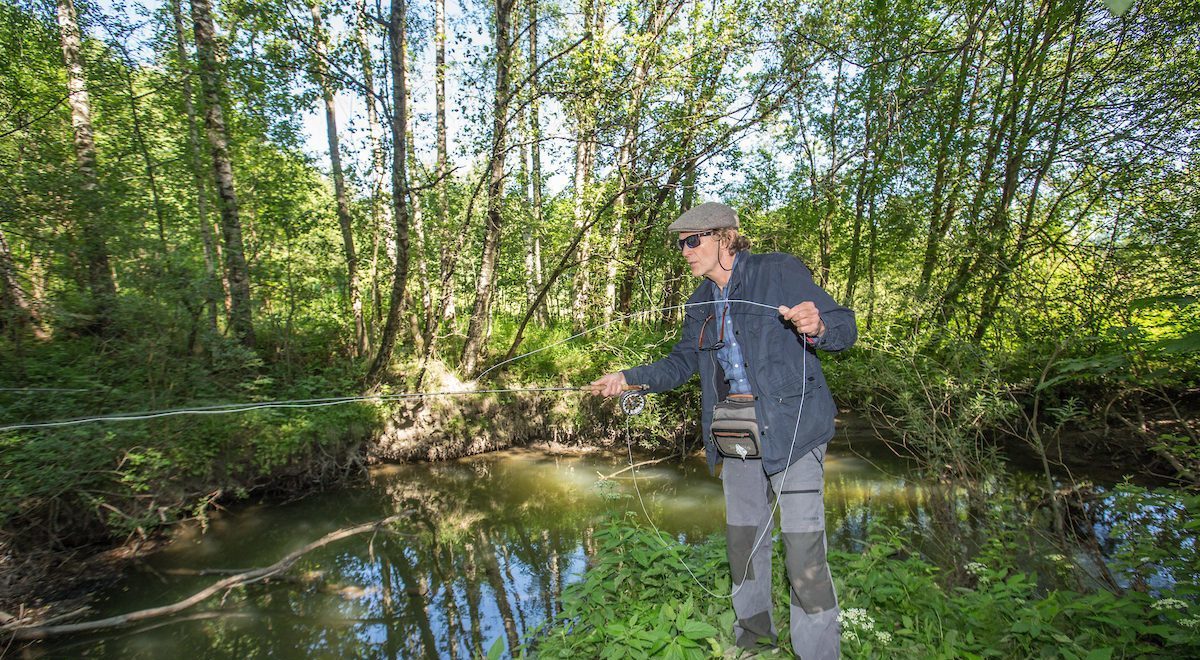 "I don't think people realize that they can fish right outside their apartment blocks"
Fishing enthusiast Lars Nilssen isn't overly eager to talk too freely about the city's "secret" fishing spots. But he has one hot tip: check out what's hiding in the Alna River.
Tekst Marianne Alfsen Foto Fredrik Naumann
"The Alna River was a new discovery for me. It was like 'no one could imagine that trout might live there,'" laughs fishing enthusiast Lars Nilssen, as he beats a path through stinging nettles, bushes and trees down to the water's edge at Alna Park in Furuset, in the heart of the Grorud Valley in eastern Oslo.
Since the start of the new millennium, the previously hidden, forgotten and polluted Alna River has gradually been "daylighted" and rehabilitated. The result is one of the Norwegian capital's finest areas for outdoor recreation. And the dawn of a fishing Eldorado.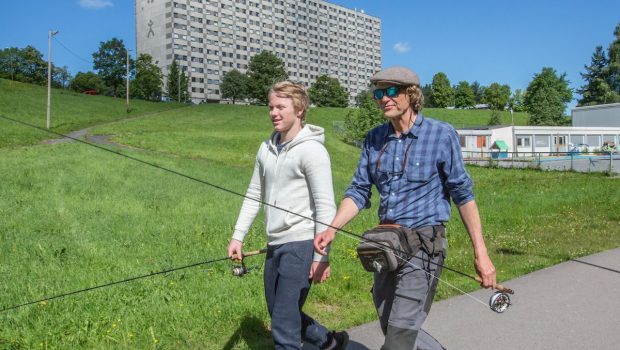 "Of course, people associate trout fishing with pristine mountain rivers  and wild nature, but there are fantastic opportunities for 'extreme local fishing' right in the centre of Oslo," continues Nilssen.
Since 2010, Nilssen and his colleague Lars Lenth have made nine seasons of Lars & Lars, a video blog about fishing, on VGTV. And it was urban fishing – in Frogner Park – that got the whole project off the ground.
Wild and beautiful
10 main rivers
Oslo's main rivers from west to east:
Lysakerelva (Lysaker River)
Mærradalsbekken (Mærradal Brook)
Hoffselva (Hoff River)
Frognerelva (Frogner River)
Akerselva (Aker River)
Hovinbekken (Hovin Brook)
Alnaelva (Alna River)
Ljanselva (Ljan River)
Ellingsrudelva (Ellingsrud River)
Gjersjøelva (Gjersjø River)
"Look over here! It's like the Amazon! It's just so cool," says Nilssen enthusiasticallly.
He likes it best where the tended parkland ends and the vegetation runs wild between the walking trail and the river.
"What's really cool is that you feel as though you're in the middle of the forest, even though you're in the most densely populated part of Norway. And the fish like it when fallen branches and trees are allowed to lie where they fall, forming creeks and nooks where the fish can hide," he explains.
It's only when a subway train clatters past behind the trees on the opposite bank that we are reminded that we're in the middle of Norway's capital city, with industry, apartment blocks and road-construction machinery on all sides.
Alna Park is one of four district parks that have been created along the 15-kilometre-long Alna River in the past two decades, in addition to the walking trail known as the Alna Path. In Alna Park there are bridges and places to sit, parkland and overgrown river banks, a special salamander pond for the endangered amphibians, a beach volleyball pitch and a frisbee golf course. And "secret" fishing spots.
"We fishermen don't really like to talk aloud about where to find the best fishing spots," laughs Nilssen, while keeping a lookout for life under the surface of the water.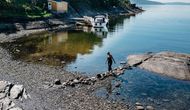 English
Here are Oslo's hidden wild-swimming gems
Right outside the apartment block
The Alna River
At 15 kilometres, the Alna is Oslo's longest river. Its sources are Lake Alunsjøen in Lillomarka in the west and Svartjern Pond in Skedsmo, which drains into what becomes Tokerudbekken Brook from Skillebekk. On its journey through the Grorud Valley, the river is joined by dozens of tributaries, before entering a culvert at Svartdalen. It is then channelled through culverts and tunnels towards Lohavn, where it runs into the sea.
"I don't think people realize that they can fish right outside their apartment blocks," says Felix Cruickshank Øverli (17), and casts his line out into the eddies below the waterfall at beautiful Grorud Pond, a few kilometres further upriver, which was completed in 2013.
"I almost always get fish here! If you don't catch anything on your first or second cast, you just have to keep going. Here the water is so shallow that a fish stays still and waits for food – it won't come swimming past," continues Felix.
He knows what he is talking about. He has been an eager urban fisherman ever since he was 10 – both at Hovinbekken, close to his family's row house at Bjerke, and here at the Alna River.
"There! No!!!!"
Through the clear water we see the trout slip out from its hiding place under the rocks, but it's not interested in biting today.
Where there are fish there is life
"What the city authorities have done to 'daylight' brooks and rivers that had been culverted, and to create walking trails along the banks, is fantastic. And it says a lot about the health of the river that there's once again a population of wild trout here," says Lars Nilssen, who has caught fish all the way down to Svartdalen.
Watercourse manager Terje Laskemoen at the Agency for Urban Development agrees that fish are a healthy sign.
Twenty years ago, there were very few fish in the Alna River, which was horribly polluted. The fact that wild fish have returned is a sign that we are succeeding.

Vassdragsforvalter Terje Laskemoen i Bymiljøetaten
"Twenty years ago, there were very few fish in the Alna River, which was horribly polluted. The fact that wild fish have returned is a sign that we are succeeding. Accordingly, we're not introducing fish artificially. We want to see how the wild stocks develop over time," he says.
Landfill sites, industry, sewage and urban runoff put a lot of nasty substances into the river over the course of several decades.
"The river is still under pressure. The landfill sites are there underground, but otherwise we have come a long way with minimizing the worst sources of pollution," says Laskemoen.
Fishing for sport, not food
The Agency for Water and Wastewater Services runs a monitoring programme, and each year two of Oslo's main watercourses receive a thorough environmental check.
"We investigate the density and presence of invertebrates and fish, which tells us about the ecological status of the river," explains Laskemoen.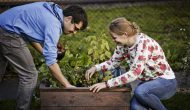 English
– It's fun we can grow our own food, despite not having our own garden
Later this year it's the Alna's turn once again. In addition, the city authorities will test trout from the River Alna and the River Ljan for environmental poisons. The watercourse manager is eager to obtain the results. Perhaps he can soon announce that fish from the Alna are suitable for eating. For the time being, only sport fishing – catch-and-release – is permitted.
Felix Cruickshank Øverli, Lars Nilssen and the other fishing enthusiasts seek the thrill of feeling a fish on the end of the line. Then they throw it back in the river – for a rematch.
This story was originally published in Norwegian in June, 2017